Jan 20
faithfollyAbuse, Children, Custody, Domestic Violence, Home Comments Off on On Locks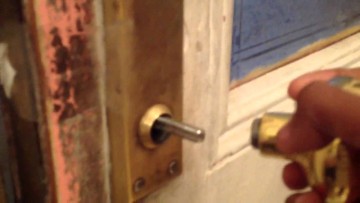 It seems strange now to think of myself as a prisoner, but I was one, in my own basement, for the 6 long months between the time when I asked him to leave and the time of his departure.
I had to get away but I could never leave my babies, so there was no place to go but down.
I used to take the door handles off, it was my only cushion against him when I tried to sleep. You can't get in without the handle most of the time, but when he was really angry the screwdriver worked just as well so I guess it was a silly idea.
He let me come upstairs when the schedule said so, but down there was my home, my nest, and up there were my beauties, my loves, my jewels.
I remember lying there in the darkness, as the sounds of my children dripped down through the ceiling, their tears leaving stains above my head.
Once I tried to keep him out of the basement by installing a lock on the door. I never thought he would actually break the door.
Maybe the locks kept me in instead of keeping him out.